~ Biography ~
"My music carries me. It's what connects me to myself." - Amy Krupski, harpist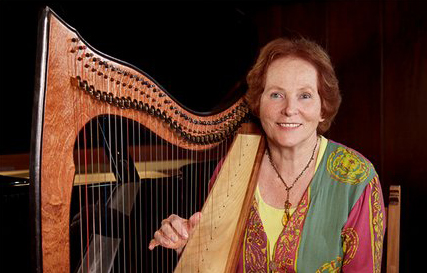 Amy Krupski took her first harp lessons after travelling to the British Isles in 1980, rediscovering the musical roots of her Tennessee childhood. Her visit to the Celtic countries and a piano background inspired Amy to take lessons on the pedal harp. She later switched to the concert lever harp, her best medium of expression, on which she arranges all of her music. "I was enthralled with the beauty of the harp's mystical voice, and fell irrevocably in love with this wondrous instrument."
There's a wee bit of magic that makes this harpist both unique and uplifting. Her serene harp playing evokes another world, but Amy Krupski is here in this one, a vital part of the Monterey Peninsula music scene. Heartfelt musicianship, masterful technique, and consummate good taste are appreciated at concerts at weddings and other special events.
Amy has produced two commercial recordings, Sea Harp and Celtic Echoes.
Amy has an extensive repitore of music for all occasions. Click to see each long list of titles:

WEDDING FAVORITES
• Classical
• Baroque
• Celtic
• Popular


CELTIC SELECTIONS
• Music of Turlough O'Carolan
• Other Celtic Songs


POPULAR SONGS
• Many Popular Songs

Amy founded and directed the well-loved Celtic Christmas Concerts, a tradition on the Monterey Peninsula, from 1986 to 2006. In November of 2001, she was awarded Best Performing Artist by the Pacific Grove Arts Commission and the Pacific Grove Friends of the Arts.
"All who pluck the mystical strings of the harp can be transformed. All who hear its magic can be healed. My vision is that all people will open to the harp's powerfiul beauty. My work is to play for those who will hear the music."