"Foothill Weavers in the Navajo Tradition"
This workshop is for Beginning, Intermediate and Advanced Techniques and Design. Beginning weavers will learn to warp up and weave on a traditional Navajo loom and create a small sampler. Intermediate and advanced weavers will learn more complex vertical and diagonal design methods and techniques to plan and carry out intricate patterns.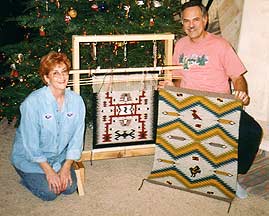 Workshop with Marilyn Greaves and Mel Silva.

Dates: September 15 -- 17, 2006 with an additional day to be announced.

Location: Fair Oaks, near Sacramento, California, or Auburn in nearby fooothills.

Contact: Tel: 916-961-0477. Email: ibweaving@sbcglobal.net.
Cost: $230. Class fee includes everything the weaver needs with the exception of a loom. Intermediate and advanced students may attend for $40 per day. Various size looms are available for purchase or do-it-yourself plans are available upon request.
Read Marilyn Greaves' weaving biography.
See photographs of weaving by Marilyn Greaves.
See photgraphs of weaving by Mel Silva's weaving